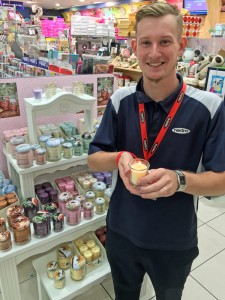 Mmm, you should experience the beautiful scents in our store at Westfield Chermside! We have just received the amazing range of Heart & Home candles from History & Heraldry. These fragrance-rich natural soy wax candles are created to fill your home with evocative scents and designed to look stylish anywhere. The selection of fragrances capture every mood from sweet floral meadows to the aromas of home baking, while powerful wood–based scents compliment truly feminine perfumes. Each has a subtle twist to ignite your imagination as well as your senses.
History & Heraldry have worked alongside some of the leading perfumers in the industry to create a range of three distinctive aromas that will envelop the heart of your home:
Bring the outside in with Cottage Garden
Conjure up delectable culinary delights with Country Kitchen
Lose yourself in the indulgent aromas of Pure Bliss
History & Heraldry's decision to use the finest American soy wax lays at the core of the development of Heart & Home range as they share the same concerns that our customers do about the impact the products they manufacture have on the environment. Soy wax is renewable, sustainable and kinder to our world.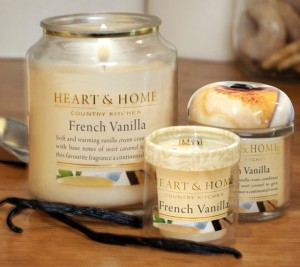 Made from a unique soy bean formulation, this non-toxic wax is not only biodegradable, but creates a candle that burns slowly at a lower temperature than paraffin wax. Choosing Heart & Home's soy-based candle range means you will not only enjoy a more enhanced scent experience, but you can do so in the knowledge that this gorgeous indulgence has its heart in nature.
The fragrances include:
Mediterranean Fig
Rambling Rose
French Vanilla
Cinnamon Spice
Sweet Cherries
Welcome Home
True Enchantment
Simply Spa
Sea Grass
Fresh Linen (and more!)