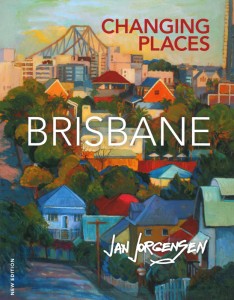 We are proud to stock an exciting, culturally-rich publication from local artist Jan Jorgensen.
Whether you're a Brisbane local or a tourist unearthing Brisbane's hidden treasures, you'll be captivated by the stunning imagery and prose captured in the new edition of  "Changing Places: Brisbane".
This delightful publication provides an interesting ramble through some of Brisbane's most historic streets and backyards. It records changes taking place in the city as the picturesque old domestic architecture gives way to new developments.
Jan's paintings convey restoration and transformation, always reflecting the amazing colour, intense shadows and amazing rooftops of Brisbane.
"I believe a sense of place is strong in all of us – where we live or leave, places we build, affect us and those who come after us," said Jan. "Houses and streets have character and personality. They are imbued with the past lives of earlier residents until someone different comes along to change them.
"I love the way light transforms the unseen everyday place of my hometown, giving it life and beauty – a different picture."
Get your copy from Nextra Chermside Newsagency today – only $49.99 each.