You could win $20,000 a month for 20 YEARS!
Play the all-new Set for Life today at Nextra Chermside Newsagency
Have you heard about this exciting new game from Golden Casket? At Nextra Chermside Newsagency, we are thrilled to offer our players assistance with how to mark Set for Life coupons and explaining the new QuickSET entries.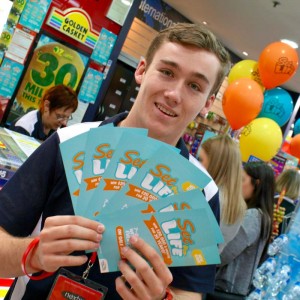 Did you know Set for Life gives you the chance to win $20,000 a month for 20 years, with draws every day of the week? Every Set for Life entry gives you 7 days (that's 7 draws!) and multiple chances each day to be Set for Life.
Make sure you visit our friendly staff at Westfield Chermside to play your first Set for Life game!
In every Set for Life draw, ten numbers are randomly drawn from thirty-seven. The first eight numbers drawn are the "Winning Numbers" and the last two numbers are the "Bonus Numbers".  You win if you match the right combination of Winning Numbers and Bonus Numbers with your entry.
Good luck – remember to have fun and play responsibly.